The landscape of marketing has changed dramatically since the turn of the century. While much of today's focus is on digital marketing, print marketing can still play a key role in the success of your business' marketing campaign. Combining print and digital marketing is one way to ensure that your business' message is seen by the most desired audience. So how can you make sure that your direct mail marketing efforts are working? In this post, we'll share tips to get your direct mail messages opened and how we can help.
Why and how does direct mail stand out as a marketing channel?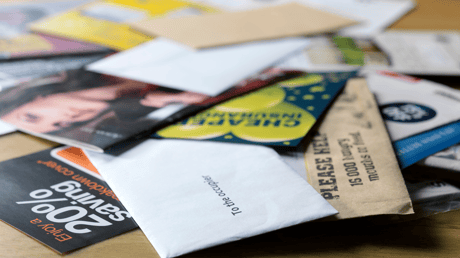 Direct mail is an opportunity to grab attention and leave a lasting impression on your audience. It comes in many forms ranging from postcards to dimensional mailers to publications, giving your business the chance to be creative, play off of the senses, and highlight and customize your brand message. An unequalled marketing tool, direct mail is a versatile medium that can open the door for a larger impact on your audience and your business.
Tips for Creating Standout Direct Mailers:
1. Use a unique design
An outside of the box design doesn't mean it won't fit inside a mailbox. Creating a design that stands out can involve using something as simple as a QR code. If you're looking to take it one step further, take advantage of different textures*, play around with the formatting by using special folds, die cuts, and sizes, or implement near-field communication (NFC) to launch content on your customer's mobile device. The possibilities are vast, and working with your printer to determine which one best suits your audience and your business will create the best chances of your piece getting opened.
2. Make powerful statements
Including powerful, meaningful messaging in your direct mail campaign that complements a creative design produces higher open rates. This is an opportunity to generate interest and curiosity by trying the unexpected. Tap into your audience's emotional side by including a message that will inspire empathy, joy, or even anger. A compelling message can leave a lasting effect on the recipient.
3. Include a special offer paired with a call to action.
Including an offer that requires a direct response is an easy way to increase the likelihood of your direct mail being opened and acted on. Special promotions that are only available through your direct mailer offer trackability to see who and how many recipients opened it and took action.
Using VDP to increase direct mail open rates
VDP, or Variable Data Printing, incorporates customer databases with high-volume printing to customize text, images, and graphics. It can be used for mail merges where only the name and address change, or more advanced personalization where images and text change to meet the interests of each recipient. VDP is a highly-efficient and cost-effective way to reach individuals in a way that speaks directly to them.
What are the advantages of using VDP?
VDP comes in many forms and can be customized to fit the needs of your target audience. Incorporating hyper-curated personalization increases open rates in your direct mail campaign and can lead to more sales. How is this done? Personalized URLs (PURLs) is one popular method that is both effective and easy to implement.
PURLs
A PURL is typically a one-off microsite with a URL specific to a recipient. It's a very effective technique when used within a VDP direct mailer, and can be modified and tracked exclusively for the campaign. PURLs typically include the recipient's name in the special URL, enticing them to type it in and visit their personal landing page.
There are other benefits to using VDP as part of your direct mail marketing campaign, too.
Trackability
Perhaps one the biggest benefits in any marketing campaign is the ability to track your results. By using customized barcodes, PURLs, or unique coupon codes, you are able to track the exact open rate of a particular direct mail piece.
One-to-One Target Marketing
Consumers like to receive personalized mail. Using consumer data to create individualized messages and offers to your audience sends a message that your business sees them as a unique individual, encouraging them to take action.
Increased ROI
By knowing and understanding your audience, you increase the chances of them taking your desired action. Including personalized information from the recipient's name and address to the nearest store location motivates a response. Premier Print Group (PPG) frequently uses these techniques to maximize the effectiveness of your marketing campaign.
How can VDP be used?
Whether you're planning to use standard mailing or an alternate service, VDP can be used in any form of direct mail. PPG offers a wide array of commercial printing options and is up-to-date on best practices when determining the right level of personalization for your campaign. Popular print options to utilize VDP include:
Postcards
An easy way to personalize the name and address of the recipient, or include a custom coupon.
Folded self-mailers
An added sense of privacy and personalization for the consumer. Because of their larger size, customizable eye-catching images can be printed directly onto the mailer.
Envelope mailers
In addition to a personalized name and address, including a tailored insert with a commanding and customized statement encourages a response by the recipient.
Letters
By far one of the most personal ways to connect with your audience and build a relationship. Letters are a great area to adapt your message to evoke an emotional response from the consumer, a technique often used by non-profit organizations.
Dimensional Mailers
These mailers allow for the most creativity to target your audience. For example, if your company sends out a custom koozie, we can take it one step further and adjust the font style or color to meet the tastes of each individual user.
Improving your one-to-one marketing efforts with Premier Print Group
With so many print options to propel your marketing campaigns forward, it can be a challenge to determine which method is the best. At Premier Print Group, we're your creative team! Our team is involved from start to finish. When choosing the right print options for your direct mail campaign, our creative team provides expert support, and can be an invaluable resource to PPG clients.
Our creative team specializes in developing and designing all types of commercial print projects, including:
Comprehensive direct marketing campaigns

Corporate branding

Newsletters

Brochures

Catalogs, and much more!
How can we help?
Premier Print Group understands that a direct mail campaign is only as successful as its open rates. Beyond printing, assisting in the customizing and personalizing of your message is just one way PPG ensures a successful campaign. If you're ready to take that next step, Premier Print Group is here to help.