Our Central Location Serves Many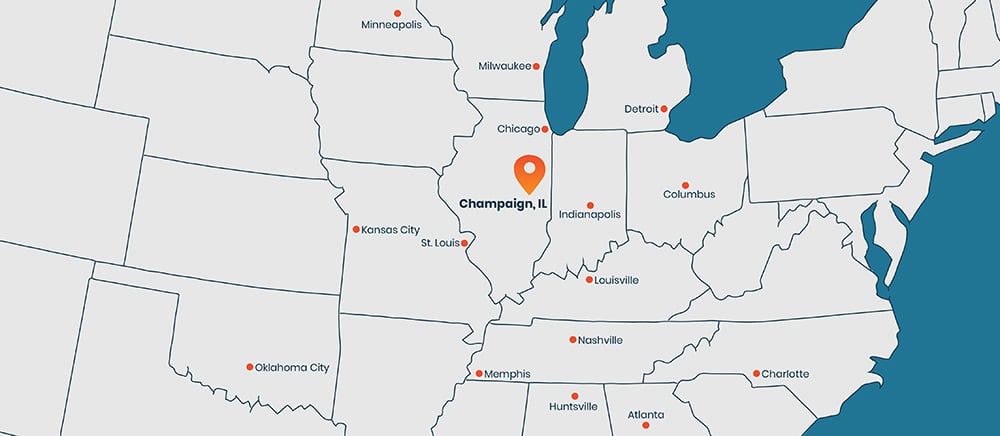 Premier Print Group is located in Champaign, Illinois which located in Central Illinois, a couple hours south of Chicago. Along with sister city, Urbana, it is home to the University of Illinois (U of I), which is a great community resource for Big10 sports and a world-class performing arts center. The National Center for Supercomputing Applications is located on the U of I campus. This presence has helped spawn numerous tech companies in the area.
The Champaign area is a great place to work, live and to raise a family. With a metro population of over 200,000, plus 44,000 students at the university, there is no shortage of excellent dining and shopping establishments. Our local communities are largely surrounded by some of the most fertile agricultural land in the world.
Distribution Friendly
Champaign is served by three interstate highways and Premier is located just minutes from each. I-57 runs North and South; I-74 runs East and West; and I-72 originates in Champaign and runs Southwest through Springfield, Illinois and ends in Missouri. The regional hub for FedEx Ground is located here due to our ideal shipping corridors.
Ideal for Mailing
The Champaign, Illinois post office is a U.S.P.S. Sectional Center Facility. National mailers recognize Champaign as an ideal location for mailing for two reasons. Dropping mail at a Sectional Center gets it in the mail stream faster. And Champaign is located near the center of the U.S. so delivery times across the country are evened out.